About Us
Since 1992, I have helped many senior citizens with their elder law issues and have guided families with the appropriate estate plan through various stages in life. My law practice is limited to and focuses on Estate Planning for your specific real property and financial needs.
Estate Planning is the process of accumulating and disposing of an estate to avoid probate together with other legal aspects interwoven into the plan. Since there is no mandatory retirement age in one's life span, it is essential to establish an estate plan which secures your hard earned assets for yourself and your family. Furthermore, I believe that a protected and secured asset maximizes protection and control of your real property and finances. Also, proper estate planning provides the orderly asset distribution to your intended beneficiaries.
Therefore, I listen very carefully to my clients' needs and wishes because creating an estate plan is an important decision that affects their family. I am here to ensure that my clients receive the highest level of professionalism through experienced knowledge, confidential private communication and continued support.
Profile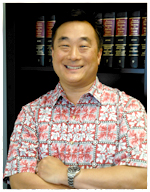 George Nam was born and raised in Honolulu, Hawaii and understands the diverse multicultural values and needs of the people living in Hawaii. He graduated from Iolani High School and is a proud alumni. He received his B.B.A. in Accounting from the Shidler College of Business, University of Hawaii at Manoa in Honolulu, Hawaii 1985 and his J.D. from the School of Law, Lewis and Clark College in Portland, Oregon 1988. He is licensed to practice in his home state, Hawaii and has been serving the families of these communities since 1992.
George Nam's practice is primarily in estate planning, probate administration and trust administration. He represents and advises clients on how to transfer wealth to intended beneficiaries. This includes fiduciaries and beneficiaries with respect to trust and estate planning administration.
Practice Area
Estate Planning
Revocable & Irrevocable Trusts
Trust Settlement After Death
Probate & Estate Settlement
Will & POA (Power of Attorney)
Real Property Gifting Plan & Conveyances
Medicaid Lien Avoidance
Guardianship
Admitted
October 1989
Law School
Lewis and Clark College, J.D., 1988 (Portland, Oregon)
College
University of Hawaii at Manoa, B.B.A., 1985 (Honolulu, Hawaii)
High School
Iolani 1980
Member
Hawaii State Bar Association
American Bar Association
AARP Legal Service Network
Born
Honolulu, Hawaii
Personal Interests
Enjoys traveling, water sports and spending time with his family